ALLERO SUMMER CAMP: Permanences and conversational workshops for young refugees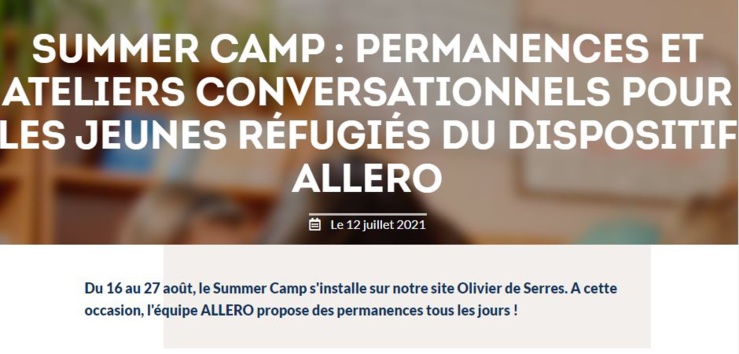 For the second year in a row, the Local Mission of Paris is organizing its Summer Camp with many partners and offers a rich program of activities, workshops dedicated to the discovery of trades, information stands on health, citizenship, cultural walks in the districts of Paris.
From August 16 to 27, 2021, the ALLERO team is moving to the Summer Camp in the 15th arrondissement (99, rue Olivier de Serres).
What is the program ?
EVERY morning from 9 a.m. to 12:30 p.m. by the ALLERO team
An ALLERO service is organized for young refugees / asylum seekers + 6 months; to answer questions from young people about the support offered by ALLERO, carry out integrations into the system or make recommendations for subsequent integration.
Find Chloé under the palaver tent for conversational workshops in French around different themes of daily life from 10:00 am (Please note that places are limited)
Every afternoon from 1:30 p.m, the ALLERO team offers you:
thematic workshops with France Terre d´Asile, Habitat et Humanisme, or Les cooks migrateurs, our friends from the Refugee House, …
cultural walks in various districts of Paris on the theme of "The Seine through time – Going back in time from medieval times to the present day along the Seine".
For more info:
MLP Planning SUMMER CAMP.pdf  (761.21 Ko)
MLP ALLERO Planning SUMMER CAMP.pdf  (220.01 Ko)